5 Albanian Meals You Won't Want to Miss
Photos by Goats on the Road
As with many Balkan nations, Albania is a country that is relatively undiscovered by travelers. Not only is the country itself quite off-track, but not many people know about its delicious cuisine! Have you heard of Fegese? Probably not, as
Albanian food
isn't all that popular outside of the country itself. Here are five meals you won't want to miss on your
trip to Albania
.
1. Fegese
Let's start with a lunchtime favorite of ours. This dish is made from green and red peppers, skinned tomatoes, onions, cottage cheese and spices. These ingredients are baked together until a thick consistency is reached. The end result is basically a hearty dip, with chunks of delicious, soft vegetables. Fegese is typically served with bread for dipping, and is often eaten as an appetizer. This dish is meant for two people to enjoy, but we would often order one for each of us because it was too delicious to share! Not only is this meal tasty, but it's very inexpensive — $2.50 for bread and a bowl of dip, and you'll be full after eating this.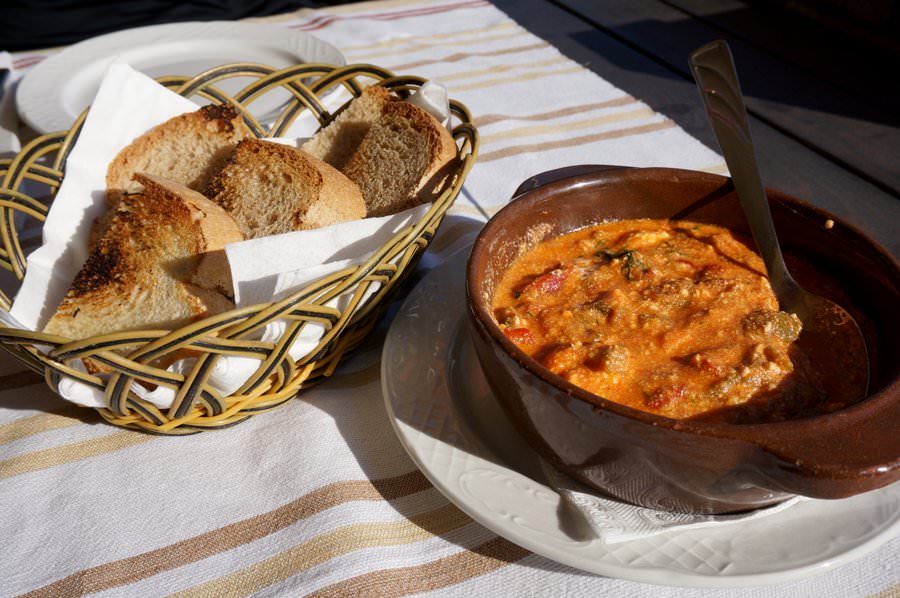 2. Tave Kosi
Lamb and veal are popular meat choices in Albania, and Tave Kosi was one of our favorites. Served in an earthenware dish, lamb meat is covered in an egg and yogurt topping and baked in the oven. After the dish is finished cooking, it comes out resembling a quiche. Piercing through the fluffy egg topping will reveal the tender meat at the bottom. This is one of the most famous dishes in the country, and it costs just $4.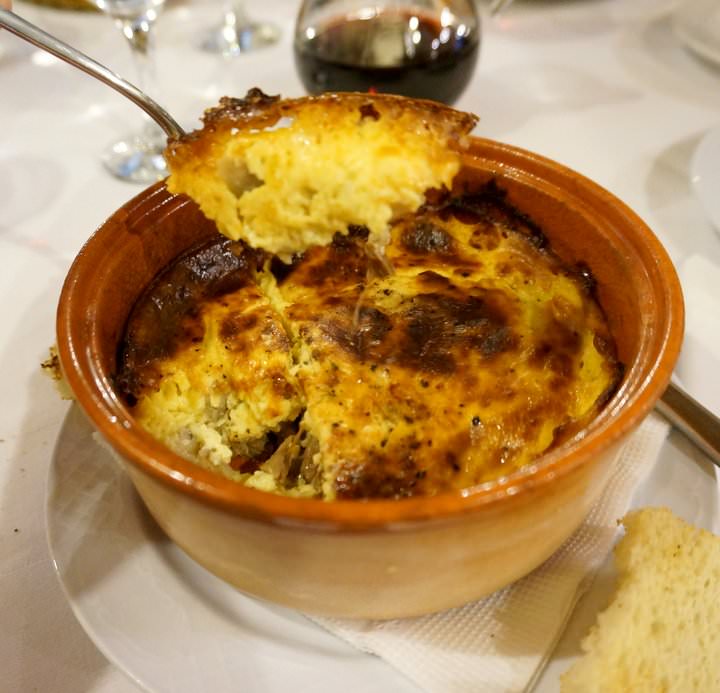 3. Speca me Glize
Meat may be popular among Albanian people, but luckily for vegetarian travelers, there are many meatless dishes available. One good option is Speca me Glize, which is a meal made from red, yellow or orange peppers. The peppers are stuffed with rice, spices and cottage cheese, then baked in the oven. Surprisingly, this meal is very filling, and as with the other foods in Albania, this dish is cheap — $2 a plate.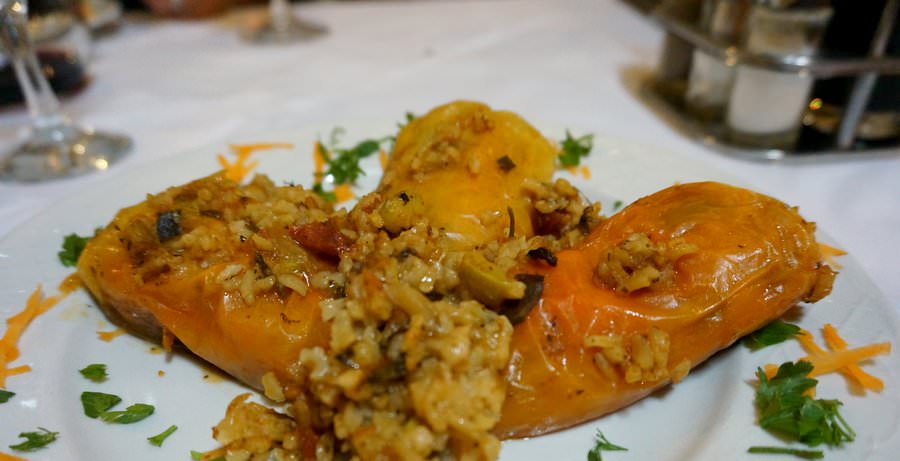 4. Fresh Seafood
Seafood may not be found only in Albania, but as the country is located along the Ionian Coast (which is an arm of the Mediterranean Sea), fish and shellfish are popular choices among the locals and tourists. In the city of Saranda, which is located right on the water, fishermen bring their catch of the day to shore for everyone to see and purchase. In one of the many seaside restaurants, you can order up a plate of grilled shrimp, or red mullet fish, for less than $10. Eating fresh seafood while in Albania is a must.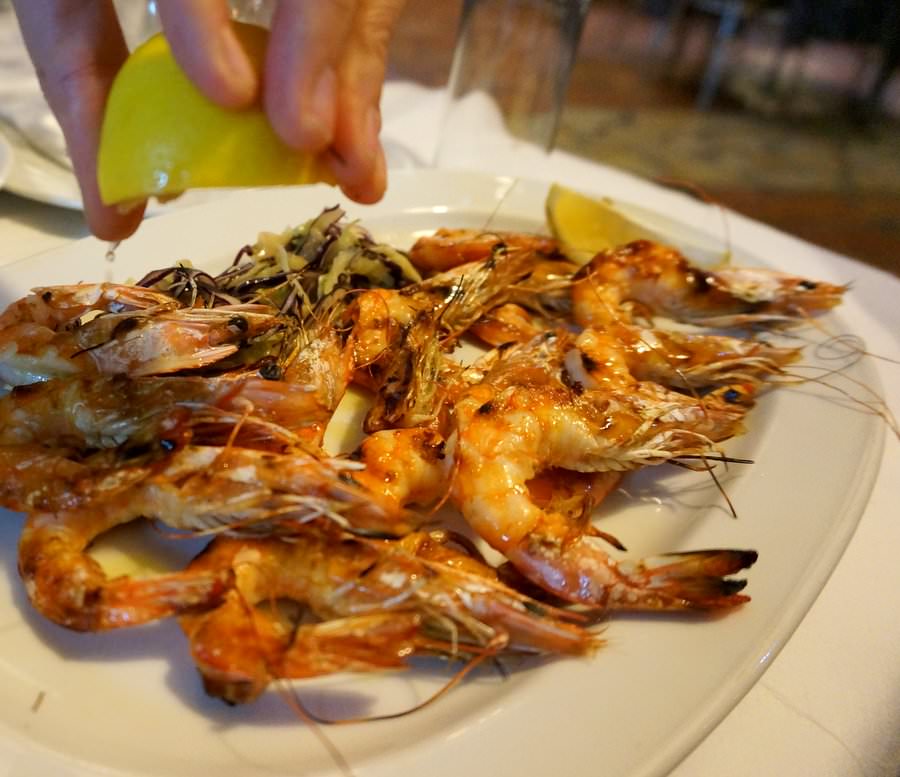 5. Shendetli
To finish off this list, we had to add something sweet! Shendetli is a traditional Albanian dessert that is very popular with locals. This sweet dish is made with the usual cake ingredients — flour, baking soda, sugar and eggs. The addition of honey and walnuts are what makes this dessert different from other cakes. Once the cake has been cooked, a hot syrup made with vanilla, sugar and water is poured all over the top and the cake is left to soak overnight. It's sweet, but not too sweet, and the price is right at $1.20 a piece.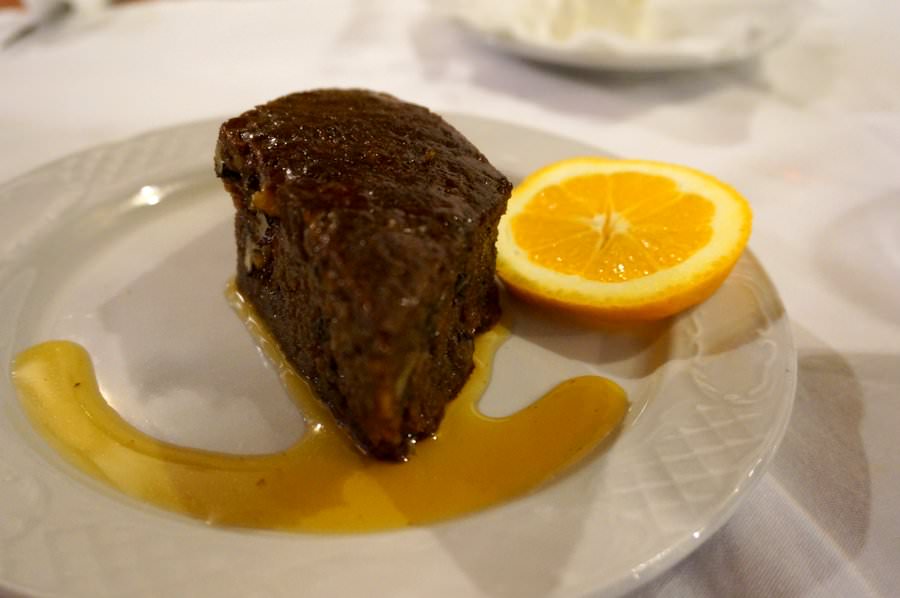 If you haven't tried Albanian food before, we suggest you either book your flight to the country, or look for a traditional Albanian restaurant in your own city. Trust us, the food is delicious and you won't be disappointed.
What do you think? Does Albanian food sound like a cuisine that you would like? Share your thoughts with us in the comments below!
http://www.travelpulse.com/opinions/blog/5-albanian-meals-you-wont-want-to-miss.html