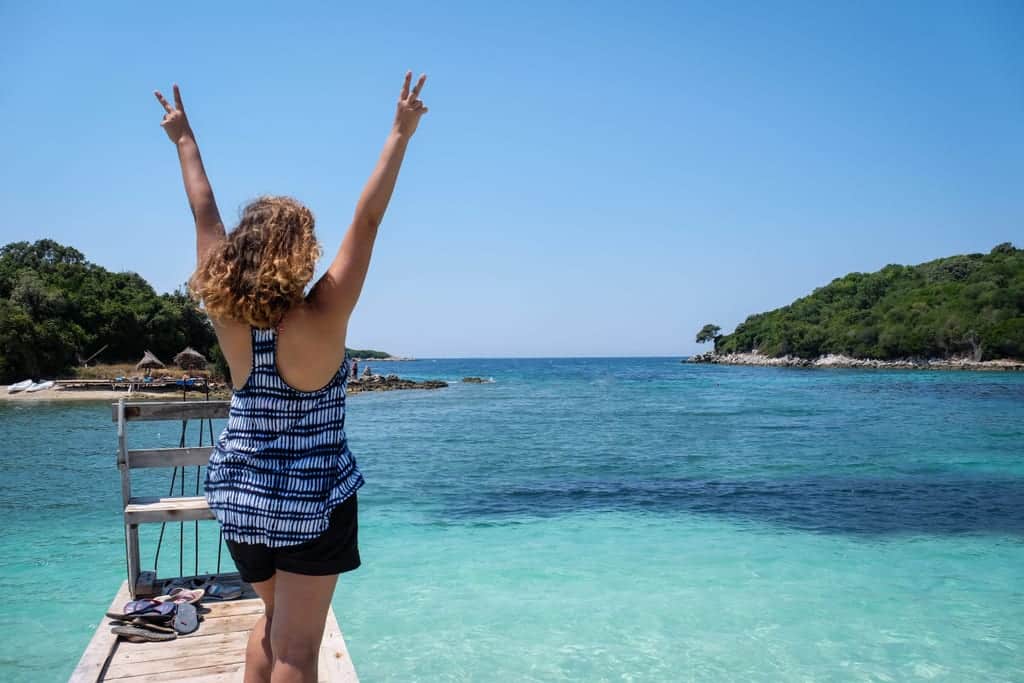 Albania was the country I was most looking forward to visiting this summer. It fit my dreams — home to a fascinating culture and some of the most beautiful beaches in Europe, yet a bit of an underdog. A Balkan country I hadn't visited yet? Sold!
But the biggest factor was meeting two lovely Albanian girls this past spring. Erisa and Bianka joined my second Central America tour. Both of them immigrated from Albania to the US when they were teenagers and both go back to visit often.
Soon our tour days were filled with stories and anecdotes from Albania, and learning from Erisa and Bianka allowed me to get to know a culture that most people only know from watching Taken.
(Side note: Erisa was watching Taken in the theater and suddenly let out a scream. One of the Albanian mobsters in the kitchen scene was played by a friend of hers. True story.)
So I wanted to enjoy my trip to Albania, but I wanted to make my friends proud, too. I wanted to give Albania a fair chance and get to see the wonderful parts, not just the negative stereotypes.
Here are the things I learned — and what you should know — when traveling to Albania.
Albania is one of the least developed countries in Europe.
I've visited nearly every country in Europe. Honestly, Albania is the least developed of all the ones I've seen, less so than Bosnia, Macedonia or Bulgaria (though it's worth noting that I haven't been to Moldova or Belarus yet).
What does this mean? Roads are in poor condition. There are no central bus stations and public transportation is a headache (more on that later). The water isn't safe to drink. There is hardly any tourism infrastructure beyond a tiny bit in Saranda and Berat. Get outside the tourist areas and you'll find nobody who can speak English.
Does that make Albania a bad place? Not at all. I'm saying this because you should know what to expect before you arrive. While they're very different countries, the lack of development in urban Albania reminded me of Cambodia several times.
The average monthly wage in Albania is 45,539 lek ($369 USD). Assuming 22 days of work per month, that's just $17 per day. Adding that to the difficulty of ever leaving the country and you've got a very tough situation for much of the population.
Albania shut itself off from the rest of the world for much of the 20th century, but so many of its residents are facing a different kind of imprisonment today.
Albania is a Muslim country.
That said, it's a largely secular Muslim country, and religion does not influence its government. I could count the women I saw wearing a hijab on one hand — and that includes my time in Tirana.
The only way you'd know the prominence of Islam is that mosques are everywhere. I also noticed that it was rare to hear the call to prayer blasted out early in the morning, a big change from places like Indonesia and southern Thailand.
The Albanian language is like nothing you've ever heard.
Don't think a smattering of Serbo-Croatian will help you out here — Albanian, while technically an Indo-European language, is not related to any other living languages. It's like Basque that way.
In areas like the more upscale parts of Tirana, the city center of Berat, Saranda, and Ksamil, you can get by with English; sometimes, Albanians speak Greek or Italian as their second language. (A taxi driver in Tirana and I spoke entirely in Italian!)
But like anywhere else in the world, learning a few words of the local language will delight the locals. Përshëndetje (per-shen-DET-yeh) means hello and falaminderit (fa-la-min-DAIR-eet) means thank you.
The Albanian flag is everywhere, and not just on government buildings.
My foreigner friends often rib me about how Americans always have their flags on display. But seriously, we're not the only ones! People from Denmark, South Africa, Turkey, and Norway, among others, are just as demonstrative with their country's flag.
And the blood-red Albanian flag topped with a double-headed eagle is seen everywhere throughout the country.
Not only that, they sell Albanian flag merchandise everywhere — think everything from t-shirts to posters to tea towels. I noticed the same thing
in Kosovo, too
, which is home to ethnic Albanians.
It's dirt cheap.
Before this trip, I thought Macedonia was the cheapest country in Europe — and Albanian prices are in line with Macedonian prices or even slightly lower. Like everywhere else in the world, you'll pay more in urban and touristy destinations in Albania and less in smaller towns and less popular destinations.
Some price examples: I very rarely spent more than $10 (or even $5) on a meal, and only did if I had a few drinks somewhere fancy. I paid 350 lek ($3) for prosecco at the chic bar on top of the Sky Tower in Tirana. Beers? Around $1 at a shop or $2 in a bar. I went on a shopping spree in Tirana and spent about $8 per shirt and $18 per (nice) dress.
Most unbelievably, I paid $18 per night for a hotel room in Berat that had both a double and single bed, air conditioning, an ensuite bathroom, and it was centrally located.Eighteen dollars. I've paid more than that in Cambodia for much worse rooms.
Just one thing — get rid of all your Albanian lek before leaving the country, because nobody will change it. (I'll be giving mine to my Albanian friend Erisa to spend on her next trip home!)
Public transportation can be maddening.
Mountain bus rides can be the most beautiful and frightening of overland transportation. Albania kicks things up a notch on the ride from Saranda to Gjirokastra, where several treacherous passes are crossed without any safety precautions. The guardrails, when they exist, are barely knee-high and seem to be more symbolic than protective.
Cities in Albania don't have central bus stations, nor do they have travel agencies that work with every bus company. For me, getting the right ticket from Saranda to Berat required me to go from door to door, agency to agency, listening to them telling me where to go in Albanian as I nodded without understanding, then finding another agency, again and again, until I found someone who sold those tickets! All the buses depart at different street corners.
As for the quality of the buses, you definitely won't have air conditioning and if temperatures are in the high 90s (36 C), which they very often are in Albania during the summer, it will be even hotter inside.
Finally, sometimes you'll arrive and find out that your connecting bus doesn't exist, which happened to me in Fier. I needed to pick up a bus to Berat and found out that nothing existed and my only option was to jump in the back of some guy's van. More on that below.
Food can be hit or miss.
You know, there were times that I really loved the food in Albania, but much of the time I found the food to be uninspiring.
Lots of meat pounded into patties or formed into sausages. Lots of stews. Lots of salads. I hate to say it, but as a cheese lover, I found that most of the cheeses I tried had an unappealing flavor to them, almost like they had started to go bad. (Coming straight from Greece with its stupendous feta exacerbated this, I'm sure.)
But Saranda had wonderful seafood, especially shellfish and octopus, and like elsewhere in the Balkans, you can always find good pizza.
For what it's worth, my favorite traditional meal in Albania was at a place called
Taverna Leo
in Saranda. I had the most wonderful stuffed zucchini and squash. But then a few days later I ordered stuffed peppers at one of the nicest places in Berat, trying to recreate the magic, and it just didn't happen. Those odd flavors crept back in.
The evening stroll is the place to see and be seen.
Like the rest of the Balkans and much of the Mediterranean, cafe culture rules and so does the evening stroll. As soon as the sun begins to set and temperatures turn livable again, it seems like everyone comes out for the evening to stroll down the street and sit at cafes. No matter how old or young you are, you're there. It's what people do.
This was most prominent in Berat. During the day, nobody would be out on the main cafe street (the super-hot summer temperatures may have been a reason), and you wouldn't believe the difference come evening.
You see children with their grandparents most of the time.
This may just be a Saranda thing, but I often saw Albanian children being cared for by their grandparents, no parents to be seen. It may be cultural, it may be just for vacation, or it might just be a coincidence. Either way, I saw it as evidence of strong and close families.
Albanians will question why you're actually there.
Over and over, Albanians were incredulous that I was visiting their country. "Why would you come here when you could go anywhere else?" they kept asking me. My friends experienced the same reactions.
No matter how much praise I heaped on the country, the kind people, the beaches, the mountains, the delicious seafood, Albanians would refuse to believe their country could be a tourist destination.
At one point, a waiter in Berat told me, "You're lucky. All of us are stuck in this town." "You're right. I am," I told him. "But this is such a beautiful town that you get to live in." He snorted and walked away.
Tirana is one wacky and vibrant city.
Tirana was a huge surprise to me! I had no idea I would love it so much. I think most of this was because I stayed in the Blloku neighborhood, an upscale area which used to be exclusively for the elite of Tirana.
Some of my favorite experiences were climbing to the top of the the derelict pyramid in the center of town and having drinks on top of the Sky Tower during sunset. And all the shopping, of course! I practically bought a new wardrobe at a Pink Woman boutique downtown and a Tally Weijl store in the Tirana East Gate (TEG) mall outside town.
Berat is one of the most unusual-looking old cities I've ever seen.
I went to Berat for to see its UNESCO World Heritage-listed old town, and I wasn't disappointed. Have you ever seen a place that looked like this before? It's the city of a thousand windows!
Berat is a tiny place and you don't need more than one full day and two nights here. Spend your time exploring the town on foot. The main cafe street comes to life around sunset — it was amazing to watch it transform from being totally empty to a swarming crowd!
The beaches on the Riviera are glorious.
Did you know that Albania is home to some of the most beautiful beaches in Europe?Here you'll find clear water like the beach above, in Ksamil. (I feel dishonest just looking at that photo, though — it was filled with people and I photoshopped them all out for a nicer photo. It is CRAZY crowded there.)
Saranda, a relaxing resort town, makes a great base for exploring the south. It has a great boardwalk, beaches with free chairs and umbrellas, and several good restaurants and cafes. There wasn't a lot to do, which made it a good place to chill out.
I spent six nights in Saranda and could easily have stayed longer. If the internet were better (i.e. didn't randomly stop working twice a day), I'd consider it a digital nomad hotspot for summer.
It was an easy hourlong bus trip to the UNESCO World Heritage-listed ruins at Butrint, and a bit north of there, the near-island of Ksamil with its beaches. Ksamil was chock full of families and umbrellas, but you'll find fewer people on the rockier beaches.
Other beaches worth visiting are Himare and Drymades, or just drive up the coast and stop wherever looks good!
Yes, I recommend Albania for solo female travelers!
I felt very safe in Albania and aside from guarding against theft, I don't think there are any specific precautions that solo female travelers should take
beyond the basics
. I experienced zero sexual harassment or sexist treatment and wasn't so much as hit on by a single Albanian man, even in bars and clubs.
There is one issue: for transportation to some places, you'll have to get into an unregistered taxi, which is pretty much just a random guy with a car. I had to do this when I found out there was no bus from Fier to Berat. It was the only option.
If you get into this situation, I recommend doing what I did: I took a photo of the driver's face, took a photo of his license plate, and pretended to make a phone call to a friend saying that I was coming soon and repeating his license plate number clearly.
I do this all over the world and it's an extra layer of safety — the driver thinks you have someone looking out for you and knows he can't try anything without getting caught. Is it 100% foolproof? No. Nothing is. But it helps quite a bit.
All this being said, I don't recommend Albania for new and inexperienced travelers. It's a challenging country in many ways for even an experienced traveler, and I recommend you cut your travel teeth on a few different countries in Europe before you travel to Albania on your own.
Full solo travel disclosure: I traveled with my bud Jeremy for most of my time in Saranda but traveled the rest of the country on my own.
Albania is mostly undiscovered, but it won't stay that way.
I don't expect Albania to grow into a major tourist destination in the next decade, but things are absolutely going to change as the country continues developing.
I expect to see many more tourists, especially along the Riviera. I could see Tirana becoming a popular stag do hotspot as well. But one place where I think we'll see the most growth is in the adventure and outdoors travel industry.
Albania is home to beautiful, pristine mountain ranges. The Peaks of the Balkans trek through Kosovo, Montenegro and Albania is starting to get more attention (for more on that, my friend
Katie
did the trek recently and is now blogging about it) and I fully expect to see more hiking, mountain climbing, canyoning, rafting, and outdoor lodges spring up in the future.
If Montenegro was lauded as the new Croatia, Albania could very well become the new Montenegro.
The verdict? Albania is great. Go now. Or go in a few years. You'll be very glad you did.
Essential Info: Tirana is home to Albania's only commercial airport. I traveled overland and arrived in Saranda via ferry from Corfu, Greece. Ionian Cruises has one ferry in each direction each day costing 19 euros ($22) and it takes an hour and 15 minutes. Keep in mind that the Ionian Cruises ticket office is not at the dock but down the street! Get your tickets in advance or you'll have to hail a taxi in a panic like I did!
I departed Tirana via Montenegro Hostel's direct shuttle to Podgorica, Budva, and Kotor. It costs 40 euros ($46) and should take five hours. While we had some nightmarish logistical issues due to a Norwegian tour group on the bus before our pickup, it was a very comfortable journey. I highly recommend it, as the alternative is taking several public buses of dubious quality. They also stop for a photo op at beautiful Sveti Stefan.
In Saranda I stayed at this modern Airbnb rental with a stunning balcony view for an absurd $35 per night. It can sleep up to seven. Keep in mind there is no kitchen whatsoever besides a small fridge.
In Berat I stayed in this incredibly comfortable hotel room via Airbnbwith air conditioning for an even more absurd $18 per night.
In Tirana I stayed in a private ensuite room at Propaganda Hostel, which is in an ideal location in the chic Blloku neighborhood, for 27 euros ($31) per night.
New to Airbnb? Sign up here and get $25 off your first stay from me!
Overall, I think visiting Tirana, Berat, and Saranda (plus a day trip from Saranda to Ksamil and Butrint) makes a good weeklong trip. I spread mine out over ten days. If you want to visit other countries at the same time, you could easily expand your trip to Kosovo, Macedonia, Greece, and/or Montenegro.
Would you want to visit Albania? Share away!
Blogerja amerikane: Shqipëria, vendi i ëndrrave të mia
http://www.adventurouskate.com/whats-it-like-to-travel-in-albania/