September 22, 2012
Albanian Cultural Garden Dedication
4:30 PM
Albanian Cultural Garden
Martin Luther King Jr. Blvd.
There will be music at 4:30 and the dedication will begin at 5:00. Free, secured parking at the Sam Miller parking lot.
The bronze statue of Mother Teresa which will be dedicated was sculpted by Albanian sculptor Kreshnik Xhiku. The statue is 7 feet tall and stands on a 6 foot pedestal. Honored Guests are Albanian President Bujar Nishani, Albanian Ambassador Gilbert Galanxhi, and our Sister City's Mayor Baftjar Zeqaj.
Soil has been imported from Albania and will be blessed by Father John Loejos of St. E Prempte Albanian Orthodox Church and the children of the garden committee members will sprinkle it in the garden as part of the ceremony. Mary, Mariano and Christian Gannon are three children from the orphanages of Mother Teresa who were adopted by Dr. Patricia Gannon will be with us to help dedicate the statue.
The Garden is significant in 3 ways. It inaugurates the Albanian Cultural Garden, commemorates the 100th year of Albanian Independence and dedicates the Mother Teresa memorial statue all on the same day. One hundred red roses will be placed at the feet of Mother Teresa at the conclusion of the ceremony. These roses symbolize the 100th anniversary of Albanian Independence and also are symbolic of Mother Teresa's given name Gonxhe which means bud and her mother's name Drone which means Rose.
There will be a Dedication Celebration party immediately following the dedication at Brennan's Party Center, 13000 Triskett Road (at Berea Road). Tickets for the Party are $40.00 per adult. Children 6-12 are $25.00 and children 5 and under are free. Party includes buffet, open bar, music and dancing.
For tickets and more information contact Anila at NICKLOA@ccf.org.
Out & About - Photos and Event Recaps
2012
On May 30, 2012, an intercultural group of people came together to raise funds for the Mother Teresa statue in the Albanian Cultural Garden as well as to meet new friends and have some fun. The event was created by immigration attorney and author Richard Herman, City Councilwoman Dona Brady and Federation Of India Community Associations of NE Ohio (FICA) president Asim Datta.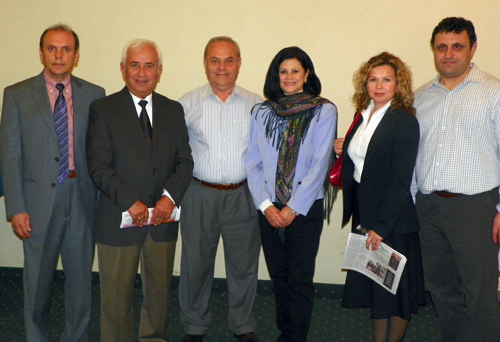 Members of the Albanian Cultural Garden Committee
Photos & Videos from the Mother Teresa Statue event at FICA
---
Submit your Cleveland Albanian Photos and Event recaps
---
Organizations and Resources for Albanians in Cleveland


Submit your Cleveland Albanian organizations and resources.

Consulate General of Albania in Cleveland, United States
1200 W. 58th. Street
Cleveland, OH 44102
216-631-1755

Albanian Orthodox Church of St E Premte
10716 Jasper Rd
Cleveland, OH 44111
216-941-1508

Business, Education and Employment Information
---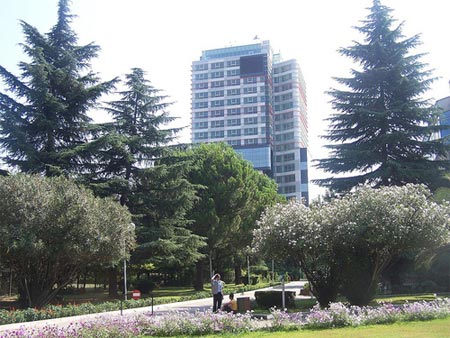 ABA Business Center in Tirana
---
Submit your Cleveland Albanian jobs, classes and other opportunities.
---
Cleveland Albanian Feedback and Memories
---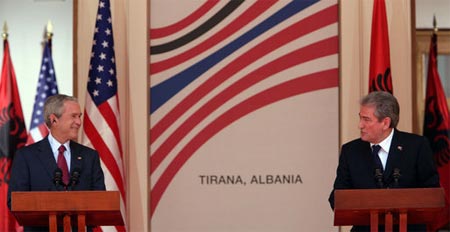 Albania's Prime Minister Sali Berisha with former U.S. President George W. Bush in Tirana, June 2007.


---
Albanian History and Culture

Tell us about the music, food, holidays, traditions, costumes, language and other qualities that make Albanians so special.

Submit your Cleveland Albanian cultural items.


---


AlbaniaAlbania declared its independence from the Ottoman Empire in 1912, but was conquered by Italy in 1939. Communist partisans took over the country in 1944.
Albania allied itself first with the USSR (until 1960), and then with China (to 1978). In the early 1990s, Albania ended 46 years of xenophobic Communist rule and established a multiparty democracy. The transition has proven challenging as successive governments have tried to deal with high unemployment, widespread corruption, a dilapidated physical infrastructure, powerful organized crime networks, and combative political opponents.
Albania has made progress in its democratic development since first holding multiparty elections in 1991, but deficiencies remain. International observers judged elections to be largely free and fair since the restoration of political stability following the collapse of pyramid schemes in 1997; however, there have been claims of electoral fraud in every one of Albania's post-communist elections.
In the 2005 general elections, the Democratic Party and its allies won a decisive victory on pledges to reduce crime and corruption, promote economic growth, and decrease the size of government. The election, and particularly the orderly transition of power, was considered an important step forward.
Albania joined NATO in April 2009 and is a potential candidate for EU accession. Although Albania's economy continues to grow, the country is still one of the poorest in Europe, hampered by a large informal economy and an inadequate energy and transportation infrastructure.
(facts courtesy of CIA World Fact Book)


---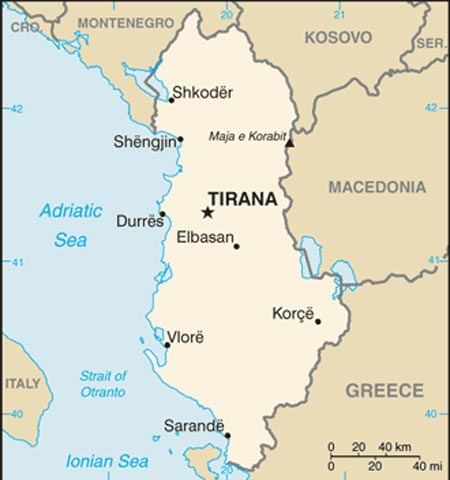 ---
Profiles of Albanians in Cleveland and Northeast Ohio
Portrait of Skanderbeg in the Uffizi, Florence. During the fifteenth century Albania enjoyed a brief period of independence under the legendary hero, Skanderbeg
---
If you know of a Cleveland Albanian who should be profiled,
please let us know.
---
ClevelandPeople.Com - Albanian Ambassadors

Read more about the Albanian and other Ambassadors. If you are interested in being considered to be an official ClevelandPeople.com Ambassador to the Cleveland Albanian community, please contact us.