The Blogger has been created to help you discover Albania, its culture, history, natural beauties, Archaeological sites, something that is difficult even to imagine. You might think you know Albania, because you may have heard about its fabulous places. Pictures do not provide you with the clear image of Albania, and therefore we offer you the opportunity to know Albania better, all the HISTORICAL arteries that spread throughout the country.
Wednesday, November 27, 2013
Destination: Albania
Albania is a bit of a mystery. Holidaymakers in this region are too busy hopping around the Greek Islands or exploring the history-riddled former Yugoslavia to consider Albania and its…., well, exactly. Nobody knows much about this country. Yes, there are lots of Mercedes and donkeys. But there's so much more to discover in Albania, including impressive mountain ranges, stunning beaches and a slower, more traditional way of life.
Travelling in Albania is surprisingly easy, although it's best not to plan far ahead. There are many more accommodation options than advertised online and while the mini buses, known as furgons, can get you most places you'll need to go, the schedules can be difficult to determine in advance. If all else fails, ask a local. Everyone in Albania seems to know someone with a taxi, restaurant or guesthouse and is eager to call them on your behalf.

Vlora:
Vlora is cosmopolitan coastal city, with more year-round atmosphere than Saranda.
What to do:
If you can be tempted from the beach, walk along the palm-tree lined Boulevard Ismail Qemali and climb to Kuzum Baba (visitvlora.com/city/kuzum-baba-kuz-baba-vlore) for the best (and free) view over the city. The National Museum of Independence ( 355 332 9419) was the headquarters of Albania's first government.
Where to stay:
Hotel Martini ( 355 6920 38877) is centrally located on one of the busiest roads in the city, plus it's better priced than the waterfront hostels
Going out:
Most cafes in Albania have a mostly male clientele and rarely serve food, so Pasticeri Kafe Izraelite ( 355 6840 67229) is a welcome change. The cakes and Israeli-inspired desserts are worthy of more than one visit. Irish Time ( 355 6968 33785) and Club Pizeri Itarus ( 355692676430) are popular watering holes in the evening.
Shkodra:
Shkodra is an interesting mix of traditional ways of life and modern influences. One minute you'll be walking along a rubbish-lined gravel road and pass a family sitting with a goat in a donkey-led wagon. The next you'll be sipping coffee in a cafe while jazz music plays in the background.
What to do:
Get a taxi to take you to Mes Bridge, which was built almost 250 years ago during the Ottoman Empire. Keep your taxi driver for the trip to Rozafa Castle (albaniantourism.com/shkoder/about-shkodra). Visit in the late afternoon to admire the view over Lake Shkodra and watch the sunset. If you can brave the seemingly lawless Albanian roads, hire a bike and ride out to Lake Shkodra (albaniantourism.com/lake-shkodra). The mountain village of Theth in the Albanian Alps is about three hours away by bus and a trip there is best organised from Shkodra.
Where to stay:
Florian's Guesthouse ( 355 6823 35921) is a short taxi ride from the centre, but worth it for the garden-sourced vegetarian dinner and homemade wine. You'll see a different side of the city on a walk around the neighbourhood where people will come out of their houses to say hello.
Going out:
Arti'Zanave ( 355 6737 66211) is one of the best places in Shkodra for traditional Albanian food. Another popular haunt is Bar San Francisco ( 355 6655 52552), which has a more international flavour.
.

Tirana:
With its large shopping centres, modern bars and colourful buildings, Tirana is probably the least Albanian part of Albania.
What to do:
Albania's capital doesn't require more than a day, in which time you can visit the National Gallery of Arts (gka.al), the National History Museum (hist.tirana.cchnet.it), admire the frescos inside the Et'hem Bey Mosque and visit Tirana Park on the artificial lake, which is exactly what the name suggests. If you find yourself here for longer head to Mount Dajti (dajtiekspres.com) and ride the cable car in the national park.
Where to stay:
Walking into the incredibly cool Trip'N'Hostel (tiranatripnhostelalbania.com) makes you wonder if you crossed a border somewhere. It's hidden behind a large gate on a small side street and its funky décor and cosy feel is unexpected.
Going out:
Oda restaurant (+355 4224 9541) is one of Tirana's best-known restaurants and much loved for its homely feel. Era (+355 4226 4475) is another Tirana staple. It has an up-market atmosphere, but is still cheap. After dinner visit Tirana's nightclub district, Blloku.
Saranda:
People visit Saranda to party, lie on the beach, or for a base to explore more interesting sites nearby.
What to do:
There's little to do in the city itself, but you can reach quite a few cool attractions by bus. The Blue Eye (visitsaranda.com/html/thingsToDo.html) is a natural spring 15km from Saranda. Its sparkling water is 10 degrees and up to 50m deep. The more adventurous visitors dive from a rusty platform above the spring. Allow a few days to visit the ancient city of Butrint (whc.unesco.org/en/list/570), the islands at Ksamil (albaniantourism.com/ksamili-islands), the UNESCO town of Gjirokastra (gjirokastra.org/home.html) and even Greece. The Greek island of Corfu is just a 30-minute ferry ride away (ionian-cruises.com/lines.php).
Where to stay:
The Hairy Lemon (hairylemonhostel.com/saranda) is a small but social hostel a few streets from the centre. It's not uncommon for the guests to cook a family-style dinner and eat together. It isn't open in winter, but SR Backpackers is (backpackerssr.hostel.com/index.php), which is more central, but lacks the atmosphere of the Hairy Lemon.
Going out:
Saranda is a summer destination – many cafes, restaurants and clubs close for the off-season. Limani (+355 6820 77471) serves up reasonably priced Italian food, and ask your hostel for directions to Plazha Ri to try traditional dishes such as stuffed peppers and eggplants. Finish the evening by joining the party at Mango Beach (discomango.com), the biggest club in Saranda.
..
Berat:
Nicknamed the City of a Thousand Windows, Berat is one of the most beautiful towns in Albania. It may be old fashioned compared to the country's larger cities, but that's half the charm of coming here.
What to do:
From the top of the 13th-century fortress (whc.unesco.org/en/list/569) you'll have a good view of Berat's famous white Ottoman houses, which are featured on the UNESCO World Heritage List. When you're back on level ground, cross the Gorica bridge and explore the narrow, cobbled streets of the Gorica Quarter.
Where to stay:
Berat Backpackers (beratbackpackers.com) in the Gorica Quarter is refreshingly clean and well-equipped.
Going out:
Berat is more traditional than Albania's larger cities and the options for entertainment are limited. Boulevard Republika, which is closed to traffic at night, is lined with cafes, although there are few women here at that time. You'll find a more inclusive atmosphere and good food on the rooftop of Hotel Tomori (hoteltomori.com).
..
https://www.tntmagazine.com/travel/top-guides/destination-albania
Friday, November 22, 2013

Nov 22, 2013
Ne aktivitetin Te pastrojme Shqiperin ne nje dite, shkolla kombetare hoteleri-turizem tirane mori pjese ne kete iniziative duke pastruar teritorin rreth shkolles dhe lagjeve, ne video jane nxenesit e klases XI-10 dhe stafi i HoteleriTurizemAlbania.blogspot.com prane kopshtit 45
Thursday, November 21, 2013
Eastern Promise
WE ALSO RECOMMEND
After years of turmoil, Albania preserves a rich culinary heritage—one that embraces the eclectic influences of its storied past
M
y first
two days in Albania's capital city, Tirana, where I've come to research a novel I'm writing about an Albanian immigrant who moves to New York, I have no idea what I'm eating. In Blloku—the now fashionable neighborhood that was once the private enclave of feared communist dictator Enver Hoxha—most of the stylish new restaurants have menus translated into English. Still, they don't offer a lot of guidance, and the waiters, however friendly, speak only Albanian. What would I like for dinner? Cigars? Roast Mrs. Goat? Sheep interiors?
Sheep interiors
?
I keep pointing to various items, hoping for the best. And never—not once—do I have a bad meal. Mystery dish after mystery dish, the food is astonishingly fresh, delicately spiced, and comforting. Forty-eight hours after I land, in the central market in Tirana, I think of my Albanian neighbor in Manhattan who warned me, "Don't eat any street food. Don't go near any street food." I'd nodded obediently then, but now I find myself eyeing a sheep's head rotating on a spit in the market. The only thing that stops me from buying one is that the sheep seem to be so dolefully eyeing me back.
Mystery dish after mystery dish, the food is astonishingly fresh, delicately spiced, and comforting.
This visit is my first to Albania, and I'm venturing into culinary terra incognita. It's years after Hoxha forbade Albanians from traveling and besieged them with propaganda about the evils of the West, years after the communist rulers were overthrown in 1991, and a 1997 banking scandal led to the collapse of the entire economy. Albanians are acutely aware that they are in the process of entering a brave new world, while trying to preserve what was valuable about the old one. And luckily, much of what seems worth preserving has to do with food.
Over the course of the two weeks I'm here, I register how much Albanian cuisine reflects the influence of the invaders who have conquered and occupied the country throughout its troubled history. At a dinner party in Tirana, a group of writers ironically thank the Ottoman Empire for baklava, the best thing, they claim, to have come from centuries of Turkish rule. In fact, much about Albania's cuisine feels tinged with Middle Eastern influences. The
k
öfte
is reminiscent of those in Istanbul and Tehran. Likewise, the egg, rice, and lemon soup; stuffed grape leaves; and the
tarator
(made from cucumbers, yogurt, and dill) are similar to those in Greece, a country with which Albania has long been in conflict. Italy left its stamp in the country's omnipresent pizzerias.Albanians would be quick to tell you that their version of Balkan cuisine is the best. And I find that hard to argue. The upside of the time warp in which their culture still partly exists is that it's been spared the damage that modern technology—pesticides and herbicides, excessive processing, long-distance transportation—has done to our food supply. When Lavdie Shehu, the chef at Tirana's rustic Sofra e Ariut restaurant, serves me "country chicken," the tiny succulent bird makes even our most pampered free-range chickens seem flavorless and wan. Most restaurants bake their own bread, and at the markets, it's common to see women selling rich yellow butter they churned at home.
Those markets also boast snack stalls. Grape leaves taste like they were picked minutes before being stuffed with rice and served warm; the "cigars" that puzzled me turn out to be rolls of phyllo stuffed with cheese and herbs.
At sit-down meals there are dozens of varieties of olives, salads, platters of pickled cabbage, peppers, eggplant, and large white beans cooked until they become extraordinarily creamy. These dishes are followed by warm entrées like
harapash
, a cornmeal stew made with mint, walnuts, and diced lamb liver, and
pershesh
, a Thanksgiving-esque cornbread stuffing soaked in rich stock with bits of chicken or meats like mutton or beef. It's one of my favorites and even makes it into my book entitled
My New American Life
(I give the protagonist's grandmother a killer version).
Despite myriad regional specialties, everyone I ask seems to have the same favorite foods. One of the most popular is
tavë kosi
, a simple dish that is beloved throughout the country, and which I sample at a friend's home in the countryside. The dish consists of chunks of lamb and rice simmered until tender, then baked under a puffy crust of yogurt. Yogurt is ubiquitous in Albanian cuisine; it appears in everything from soups and drinks to sauces and sides. This yogurt is clean and pure, made a stone's throw away at a nearby dairy. Albania has historically been a dairy-producing country, owing, no doubt, to the well-fed cows I see grazing during my drive up. As I dig into my
tavë kosi
, the lamb shreds easily under my fork, each rice kernel is swollen with savory broth, and the yogurt provides a tangy counterpart to it all. It's my first country meal, and for me it defines the very essence of Albanian food: fresh, simple, and resourceful.
http://www.saveur.com/article/travels/eastern-promise-albanian-food
http://www.196flavors.com/2013/04/07/albania-tave-me-presh/
Tavë Kosi (Albanian Baked Lamb and Rice with Yogurt)
WE ALSO RECOMMEND
Garlicky lamb and rice baked under a thick, tart veil of yogurt is a dish beloved throughout Albania. This recipe first appeared in our November 2013 issue with Francine Prose's story Eastern Promise
SERVES 8–10
INGREDIENTS
6 tbsp. unsalted butter

1 tbsp. olive oil, preferably Lucini brand

2 lb. lamb shoulder, trimmed and cut into 1½" pieces

Kosher salt and freshly ground black pepper, to taste

⅓ cup flour

3 tbsp. long grain white rice

4 cloves garlic, finely chopped

3 tbsp. finely chopped oregano

4 cups plain yogurt

⅛ tsp. freshly grated nutmeg

5 eggs
INSTRUCTIONS
1. Heat 3 tbsp. butter and the oil in a 6-qt. saucepan over medium-high heat. Season lamb with salt and pepper and toss with ¼ cup flour. Working in batches, cook lamb, turning as needed, until browned, 10–12 minutes. Add rice, garlic, and ½ cup water; boil. Reduce heat to medium-low; cook, covered, until rice is just tender, about 18 minutes. Stir in oregano, salt, and pepper and transfer to a 9" x 13" baking dish; set aside.
2. Heat oven to 375°. Melt remaining butter in a 2-qt. saucepan over medium-high heat. Whisk in remaining flour; cook until smooth, 2 minutes. Remove from heat; whisk in yogurt, nutmeg, eggs, salt, and pepper until smooth. Pour yogurt sauce evenly over lamb mixture. Bake until golden and the lamb is tender, 45–60 minutes.
Tuesday, November 19, 2013
Friday, November 15, 2013
Thursday, November 14, 2013
Posted Thursday, Nov. 14, 2013
TIRANA, Albania —

About 5,000 Albanians demonstrated on Thursday against a reported plan for
Syrian chemical weapons to be destroyed in their country.
"No to chemical weapons!" the protesters chanted outside Parliament and the prime minister's office in Tirana, the capital.
Discussions have been underway for weeks at the Hague headquarters of the Organization for the Prohibition of Chemical Weapons about how to destroy Syria's stockpile of poison gas, nerve agents and chemicals.
Western nations and Damascus are believed to favor destroying the weapons in another country. Albania is apparently among possible venues because it has already destroyed its own stockpile.
The protesters questioned whether that can safely be done in their country and whether it would undermine efforts to boost their tourism.
A similar protest was held in neighboring Macedonia by members of an ethnic Albanian rights group.
The dozens of demonstrators rallied outside the Albanian Embassy in Skopje, their capital. Macedonia's green party, the Democratic Renewal of Macedonia, said officials should urge Albania to reject the reported plan, saying it would endanger the environment.
In Tirana, Albanian officials said no decision has been reached about whether their nation will take part in such an effort.
http://www.star-telegram.com/2013/11/14/5336211/albanians-oppose-dismantling-syrian.html

Read more here: http://www.star-telegram.com/2013/11/14/5336211/albanians-oppose-dismantling-syrian.html#storylink=cpy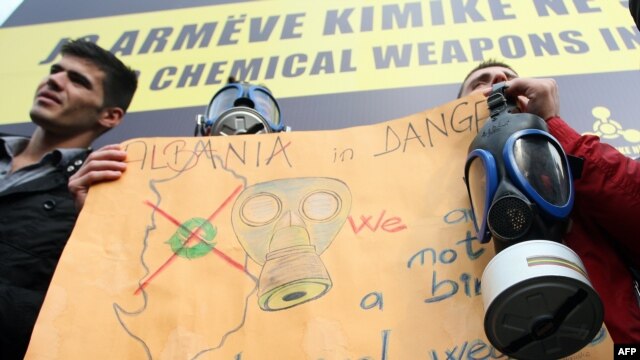 Environmental activists protest against the proposed chemical weapons plan outside a government building in Tirana on November 13.
A
lbania has done the United States a lot of favors in recent years.
It has agreed to take in freed Guantanamo Bay prisoners and contributed to the U.S. military campaigns in Iraq and Afghanistan with little protest from society.
But with reports now surfacing that Syria's chemical weapons may be dismantled in their country, Albanians' generosity appears to have reached its limit.
Hundreds of protesters took to the streets in the capital, Tirana, on November 12, the second rally in less than a week.
Chanting "No To Chemical Weapons," the demonstrators gathered in front of parliament before marching to the U.S. Embassy.
Sazan Guri of the Alliance Against Waste Imports, which organized the protest, stressed that Albanians remain very pro-American and that the demonstration was not against the United States. The goal, instead, was to spread the message that Albania should not be a "dustbin."
"We are against the weapons and not against America. America is our big brother, always in cooperation with this nation and this country," Guri said.
During the 20th century, there has been strong pro-U.S. sentiment in Albania, in particular in recent years after the U.S. intervention in the Kosovo war in the late 1990s and its commitment to Kosovo's statehood.
Popular Opposition
After years of importing hazardous waste from its richer neighbors, the government of Prime Minister Edi Rama banned waste imports in October, weeks after coming to power. The ban followed a two-year grassroots campaign from environmentalists. Earlier this month, Albania's parliament passed legislation allowing for the import of some nonhazardous waste.
Besar Likmeta, a Tirana-based editor for the Balkan Investigative Reporting Network, says there is opposition to taking in Syria's chemical weapons from "all strata of society."
"People are worried for their safety. There isn't much information that is coming out of the government. Also there is this feeling that pro-Americanism has been taken for granted and we're kind of saying yes to everything that is being put on our table," Likmeta says.
Likmeta notes that Albania agreed to take in 11 former Guantanamo Bay prisoners and 210 members of an Iranian opposition group, the Mujahedin-e Khalq Organization (MKO). It also supported Washington in its military campaigns in Afghanistan and Iraq.
The Organization for the Prohibition of Chemical Weapons (OPCW) confirmed in October that Syria had destroyed all its declared equipment for the production of chemical weapons ahead of a November 1 deadline.
That represented the first step toward eliminating Syria's arsenal by mid-2014 under a September United Nations Security Council resolution. But how that will be achieved has still not been determined.
After media reports surfaced that the United States had asked Albania to destroy the weapons on its soil, Prime Minister Rama confirmed on November 12 that he had indeed discussed the issue with U.S. Secretary of State John Kerry.
Rama stressed, however, that no final decision had been made.
A decision, however, could come as early as November 15, when the OPCW, the global chemical weapons watchdog, was due to discuss plans on eliminating Damascus's arsenal.
The U.S. Embassy in Tirana declined comment on the reports.
But during a visit to the northern city of Shkoder last week, the U.S. ambassador to Tirana, Alexander Arvizu, said NATO-member Albania and "all the responsible international partners" must look for ways to contribute to disposing of Syria's chemical weapons.
"It's incumbent upon all responsible nations, certainly including the United States and Albania in that group, to find timely and effective ways to eliminate the menace that is posed by Syria's chemical-weapons program," Arvizu said.
Albania has recent experience in eliminating chemical weapons. With U.S. technical and financial assistance, Tirana destroyed its own 16-ton arsenal in 2007.
Albania's geographical position on the Adriatic Sea would allow the transportation of the Syrian stockpiles by sea or by air without transiting another country.
Safety Concerns
But there are also concerns about safety.
Much of the hazardous waste from Albania's own destroyed arsenal remains stored in containers at an army base near Tirana.
Likmeta recently visited that facility and was disturbed by what he saw.
"There was nobody to be seen, guarding these 25 containers of chemical waste and hazardous waste which remain from Albania's stockpiles. I was standing and shouting for somebody to hear it, to meet somebody there at the gate of the base, but there was no one to answer," Likmeta said.
Moreover, an attempt to dispose of Albania's conventional weapons took a tragic turn in 2008, when 26 people were killed and more than 300 wounded in an explosion at a former army barracks outside Tirana where old artillery shells were being dismantled.
Parliamentary speaker Ilir Meta also raised questions about Tirana's ability to dismantle the weapons in a television interview on November 7, saying, "Even other, much bigger and more developed countries do not accept it."
Norway has already rejected the idea of dismantling Syria's arsenal on its soil. Denmark and Sweden say they are prepared to help transport the weapons but not dismantle them.
France and Belgium have also been mentioned in press reports as possible sites for the dismantling of Syrian chemical weapons.
Ian Anthony, the director of the Arms Control and Nonproliferation Program at the Stockholm International Peace Research Institute, says that "both safety and security issues would have to be examined in the specific context of what it is that Albania was being asked to do. If the task that was given and that Albania agrees to accept was broadly comparable to what they've already done, then they have the experience and they have the facilities."
"If they're asked to do something which is of larger scale and a more complicated process, then I think there would be risks unless Albania receives significant assistance from outside parties," Anthony says.
Likewise, Alastair Hay, professor of environmental toxicology at University of Leeds, says Albania won't be asked to do something that the OPCW doesn't think it is capable of doing.
RFE/RL's Balkan Service contributed to this report
BY BENET KOLEKA
TIRANA
Thu Nov 14, 2013 11:24am EST
(Reuters) - Albania's government faced a growing chorus of opposition on Thursday to a U.S. request that it take on the job of dismantling Syria's chemical weapons, despite a vow by Prime Minister Edi Rama that the poor Adriatic nation would be rewarded financially for carrying out the task.
Rama, barely two months in the job, repeated that no decision had been taken, but indicated he was in favor.
"Our 'Yes' would be linked only to a plan and agreement that will make it clear to everyone that Albania will come out of this with its head held high, the richer for it and cleaner than it is today," he said late on Wednesday.
Albania has been identified as a possible destination for the weapons stockpiles, which Syrian President Bashar al-Assad has pledged to get rid of as he seeks to turn the tide of international opinion in a more than two-year civil war.
The request came under a Russian-American deal to destroy the weapons program by mid-2014, averting U.S. missile strikes threatened after an August sarin gas attack on the outskirts of Damascus that killed hundreds of people.
A source briefed on the discussions said talks with Albania had reached a "technical level", ahead of a Friday deadline to agree a destruction plan with the Organisation for the Prohibition of Chemical Weapons (OPCW) which will meet in The Hague. Under the U.S.-Russian timetable, all chemicals should be out of
Syria
by December 31, except for one which should be destroyed on site by March.
It was uncertain whether a site for the destruction would be agreed by Friday.
Albania, an Adriatic nation of 2.8 million people, is a member of NATO and staunchly pro-American.
But the prospect of hosting Assad's sarin gas and other chemical weapons has stirred anger and complaints that the West is exploiting its poorer, Balkan ally, which is striving to become a candidate for membership of the European Union.
In the capital Tirana, protesters outside parliament carried placards that read "No to sarin, Yes to oxygen, let us breathe", and "No to chemical weapons in Albania."
Albania has experience in such work, having dismantled its own communist-era chemical weapons with U.S. help in 2004 at Qafe Molle, behind Mount Dajt that overlooks Tirana. It also has a weapons destruction site at Mjekes, near the central town of Elbasan, where protests have also been held.
ANGER AND OPPOSITION
Inside parliament on Thursday, female opposition lawmakers seized the rostrum to voice their anger at the U.S. request.
"Disarm yourself before you talk about Syria's weapons," Rama's coalition ally, Ilir Meta, railed at the opposition from his seat as parliament speaker. "Everything will be done transparently. You should be calm about it," he said.
But a dearth of public information on what the exercise might involve has fuelled a frenzy of doomsday scenarios in Albania and angered environmentalists.
"This decision will be taken in full conformity with all the obligations the Albanian government and I personally have to every Albanian," Rama said. He said the government was seeking "full guarantees for the Albanian public and the future of the country."
The soul-searching, however, already marks a break with the past.
Albania readily offered up its territory for U.S. warplanes to bomb concrete bunkers as training before the 2003 invasion of Saddam Hussein's Iraq.
In 2010, Rama's predecessor, Sali Berisha, agreed to a U.S. request to take in six Chinese Uighurs released from the U.S. jail in Guantanamo Bay and, this year, hundreds of Iranian opposition exiles from Iraq.
Syria's Assad has said the total cost of dismantling the chemical weapons program could reach $1 billion. Experts believe it could be done for less, in the range of tens or hundreds of millions of dollars, depending on where and how the arms are destroyed.
Berisha accused Rama's government of rolling over, and warned of unrest. "We would give you a referendum, as a choice, otherwise the squares and streets will become the parliament of Albania," he said.
The ruling Socialists accused Berisha of whipping up hysteria for political gain.
Calling Berisha "Assad's consul", Labour Minister Erion Veliaj told reporters: "Give us a few hours to take a decision, but please don't ask us not to talk to our key ally."