Albania offers wide opportunities for tourists to have fun and enjoy their vacations. Only a few of them are listed below but the most important and valuable advice we may give, is to visit Albania in every season of the year… it has so much to offer!
Short description
Albania's twentieth century history has given it a unique place in the Balkan travel landscape. While Yugoslavia and Bulgaria were building seaside resorts to attract hard-currency tourists, Albania's paranoid Communist regime made it almost impossible for foreigners to enter the country. Although the current authorities still don't do much to promote the country to visitors, Albania is a very different place these days: entry formalities are minimal and foreigners can wander around the country in freedom in one of Europe's fastest changing countries.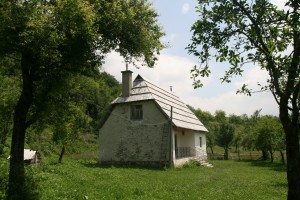 Albanian Alps
Photo credits:
2.bp.blogspot.com
Starting at the very south of the country, the ruined Roman city of Butrint is located between the Greek border and the popular resort of Saranda. The ruins themselves are impressive, and derive added appeal from their location on a peninsula covered with lush woodland. The surrounding hills, marshes, and lagoons form the scenic Butrint National Park, which is well worth exploring. The National Park has designed several walking trails starting from the ruins. Butrint is the only place in Albania where this kind of information is so readily available, so take advantage of it. Butrint can be visited on excursions from Corfu, so many people get their first taste of Albania here.
A short distance inland from Saranda is Gjirokastra, one of the most distinctive historic towns in the Balkans. Spread out over several ridges overlooking the Drinos River, and dominated by an imposing castle, is a collection of houses that at first appears typical of Balkan domestic architecture, but on close inspection reveals many unique touches. Seen from the citadel, the grey slate rooftops below seem almost like an organic feature of the countryside.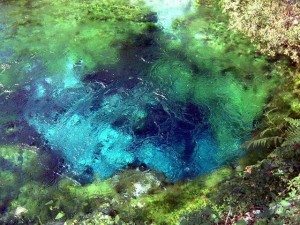 Blue Eye,
Ksamil, Albania
Photo credits:
Wikimedia / Mark Morell
The Ionian coast north of Saranda is sometimes called the Albanian Riviera. With its quiet beaches, plunging mountains, hill villages, and Greek churches, this stretch of coastline has an appeal to match anything further north on the Adriatic. The Riviera reaches a thrilling climax at the Llogaraja Pass, where the road climbs more than a thousand metres to a wonderful viewpoint before plunging into deep forest on the other side of the pass.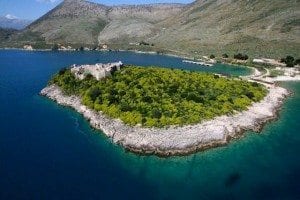 Porto Palermo, Himara
Photo credits:
Wikimedia / KevinAlbania
Further inland, and within a few hours of the capital Tirana, is Berati, another well-preserved Ottoman town spreading over several hills and overlooked by a citadel. Berati has an appealing lived-in feel; even the upper town, within the walls of the citadel, is still inhabited. This gives the place a feeling of continuity, rather than the museum-life feeling that pervades some other Ottoman towns in the Balkans. The upper town has always had a strong Christian presence and there are a number of impressive churches. One of them holds a collection of icons by the 16th-century painter Onufri. The town blends into the fertile surrounding valleys, and even in the centre many streets have a canopy of vines, heavy with delicious-looking grapes in August.
Tirana is a mostly modern city that lacks the historical or architectural appeal of Berati or Gjirokastra. Although it doesn't have many "must-see" attractions, you will found it a charming city with a distinctive character of its own. If you are travelling around Albania it's well worth a stop for some cafe life and people-watching.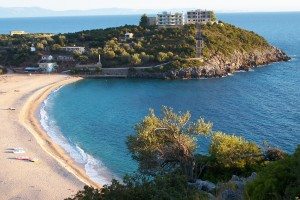 Jala beach, Vlore, Albania
Photo credits:
Wikimedia / wstuppert
The northern half of the country is very explored by foreigners. A possible starting point for exploring this area is the city of Shkodra. A hilltop castle, a handful of picturesquely decaying old houses and an army of cyclists give the city a quirky personality of its own.
Albania does have a train system, but it is slow, covers a limited number of places. Most people get around the country using buses or minibuses known as furgons. It all works quite well and getting around by public transport is not a major problem. Buses often have fixed timetables. Bus and furgon activity starts very early in the morning and can finish quite early in the afternoon on many routes.
As an alternative to public transport, hiring a taxi for a day or half day can be quite reasonable, especially if there are a few of you.
There are good bus connections to Thessaloniki, Athens, and other places in Greece – these are widely advertised in Tirana and other Albanian cities. Regular buses from Tirana also run to Kosovo and Macedonia. It is quite easy to get to Montenegro from the northern city of Shkodra. There is a useful short ferry connection between Saranda and the Greek island of Corfu, as well as longer ferry trips from Durrësi and Vlora to Italy.
Albania's currency unit is the Lek. The way Albanians describe amounts of money takes a little getting used to. A shopkeeper telling you that your bill is 600 lek, for example, might say "six hundred" (or the Albanian equivalent, naturally). But he is more likely to say "six thousand", meaning 6000 old lek – even though the old lek was abolished decades ago, quite possibly before the shopkeeper was born. Or he may just say "six". This can be a confusing until you get a feel for how much things cost – especially as prices are often not written down anywhere.
Like most European languages Albanian belongs to the Indo-European language family, but in a separate branch from any other language. You may notice variations in the spelling of some place names, e.g. Tirana/Tiranë, Berati/Berat. This is because the form used in Albanian depends on the grammatical context. Italian and English are popular second languages and speaking them will certainly smooth your way; Greek could also be useful in some parts of the country.
Things you could do as a tourist… only some of them:
Hiking and trekking
Albania is home for hikers! From the alps in the North to the Southern tip, Albania has places few travelers have ever set foot. Each part of Albania has a place to rock climb, hike, trek, tent safely, or merely rent a car to see an amazing, untouched landscape. Preparation of good shoes for light hiking or mountain boots for trekking across alps are a must. AlbanianTourist also recommends for any serious hikers or trekkers to bring the usual 1 liter water bottle, proper nutritious for strenuous exercise, and possibly an extra food bar just in case a missed ride or planned bus departure is missed.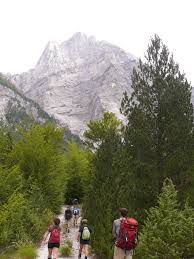 Hiking in Theth
Photo credits:
Wikimedia / Jirka DI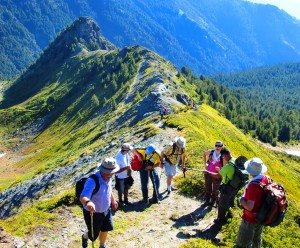 Hiking
Photo credits:
Wikimedia / Nentori
That's an Albanian sport! Albanians are disco or club happy people. Although traditional ring dancing is still popular among most Albanians, clubbing or organized dance parties are common for the younger generation. Most of these youths dress in fashion usual seen in Greece or Italy and always enjoy seeing a foreigner along side them. Also be aware that the entertainment might be from your country now as Albania is the new international tourist attraction!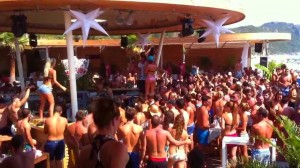 Dhërmi beach party
Photo credits:
i1.ytimg.com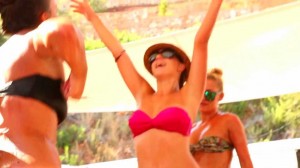 Dhërmi beach party
Photo credits:
i1.ytimg.com
Albania is filled with castles! Trip planning here would require adequate shoes to walk the long, stone roads to the castle doors if a taxi is not hired. (Castle note: long, single routes to castle entrances were a defense mechanism. A very necessary piece of the defensive architecture.) Also be sure to bring something to eat as Albania is slowly installing food options within their 2,000+ year old castles. Lastly, a sun hat and water bottle are recommendations as climbing staircases, walking court yards, and relaxing near look-outs are usual events.
Rozafa Castle
Photo credits:
Wikimedia / Bdx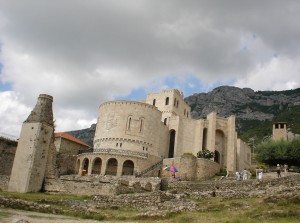 Kruja Castle
Photo credits:
Wikimedia / Zeke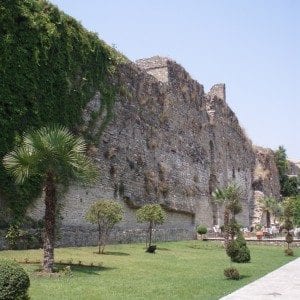 Elbasan Castle
Photo credits:
Wikimedia / Brams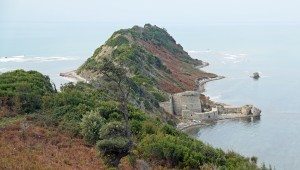 Rodoni Castle
Photo credits:
Wikimedia / Albinfo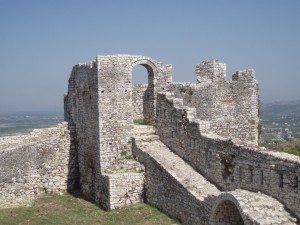 Berat Castle
Photo credits:
Wikimedia / Terfili
Sunbathing
For those who have not visited the Adriatic or Mediterranean countries, the sun can be a friend which blankets you in light but mistreats your skin quickly. AlbanianTourist always recommends to visitors to bring a sun hat, sunscreen above 20 SPF, drink lots of fresh water, and enjoy the sun responsibly. Albanian sunshine is one of the greatest pleasures in the Adriatic as the warm and cool breeze can captivate. Be sun safe!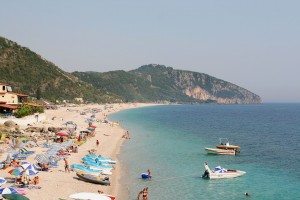 Dhërmi, Albania
Photo credits:
Wikimedia / Dori
- See more at: http://invest-in-albania.org/tourism-tips-2/#sthash.5v0X070N.dpuf