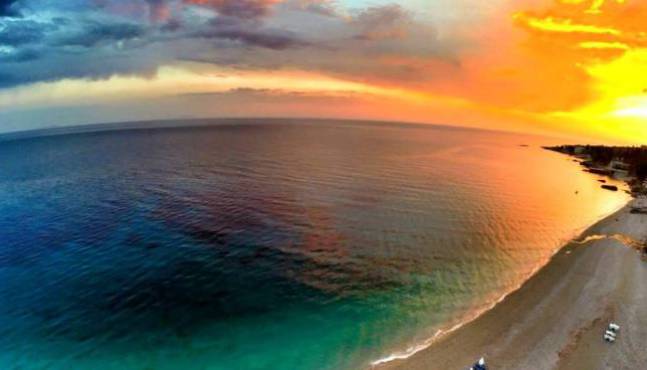 Colorful landscapes, lakes, high mountains, rivers and valleys. Natural beauties that blend in cultural and historical heritage, inherited from our forefathers. All blended in the hospitable Albanian traditions that will follow you through your journey in Albania. So guys are you ready?
You didn't know there are so many canyons and waterfalls? Well, I have good news, there actually are and I wouldn't miss this one, Valbona National Park.
2. How about beaches – not bitches… Just head south and the crystal clear Ionian waters of Gjiri i Granës will certainly not disappoint you.
3. Welcome to Thethi! The gate to the Albanian Alps, waterfalls and canyons. Simply, an amazing place for explorers and nature lovers to visit.
4. Is hiking too much for you? You're in the right place. There's a touch of melancholia every time I spend a night or two in the vicinity of Ohrid lake. Inspired from the changing moods of these waters was the Albanian poet Lasgush Poradeci. He observed the mountains casting their shadows over the depths of its sparkling waters and blended those landscapes in his poetry.
5. The surrounding sea waters form the only marine park in Albania – Karaburun-Sazan National Marine Park.
6. Another unique gem in Theth – Ujvara e Grunasit. So rare that it is considered a natural monument.
7. Time for history. Apolonia, the ruins of an ancient Illyrian city. It was founded in 588 BCE by Greek colonists from Corfu and Corinth, on a site initially occupied by Illyrian tribes.
8. Ksamil Beach – A hideaway for many local and foreign tourists.
9. And many other valleys…
10. Dea – the Godness of Butrint, was discovered from the Italian archeologist Ugolini in1928. The Guardian recently listed the national park of Butrint as part of the top 10 national parks in Europe.
11. Kruja, the first capital of today's Albania in the Middle Ages. It's identified with our national hero, Skanderbeg.
12. Mrizi i Zanave – Well known for its culinary delights and agritourism in the northern Albania. A lovely place to visit.
13. More cliffs and rocky seaside…
14. Too sunny and need some fresh air? Take the water motor bikes and head towards the Pirates' cave. Afterwards, a stop at some of those hidden beaches is not a bad idea.
15. Ok, let's put it this way: If I was to retire today and I had to live somewhere in Albania, I would happily live in Dardha.
16. Back to the 15th century there were no smartphones. During Skanderbeg's fight against the Ottomans, the Petrela Castle, which was under control of Skanderbeg's sister Mamica, signaled to Kruja Castle the coming of Ottoman troops using means of fire. Nowadays, it's a pleasant bar/restaurant near Tirana.
17. Berat is known as the city of two thousand steps or thousand windows, a castle on top, medieval museum and a beautiful river. Worth visiting this UNESCO World Heritage site.
18. The Blue Eye is one of the most natural phenomena in Albania. Crystal clear water bubbling in the surface from more than 50 meter deep karst hole (literally looks like a blue eye) and it's surrounded by shades of green water. Here is a great video.
19. I can tell you that canoeing through Osumi River Canyon was a sensational experience. This spectacular landscape resembles a miniature Grand Canyon.
20. Last, but definitely not least: This stop is the ultimate spot for your next Facebook poser shot. What a divine view and a deep sense of freedom! This daring traveller took the chance cruising through the steep and curvy Pass of Llogara…
Photo credits:
Armela Bega
– Llogara National Park, South Albania
http://invest-in-albania.org/20-places-that-will-change-your-mind-about-albania/